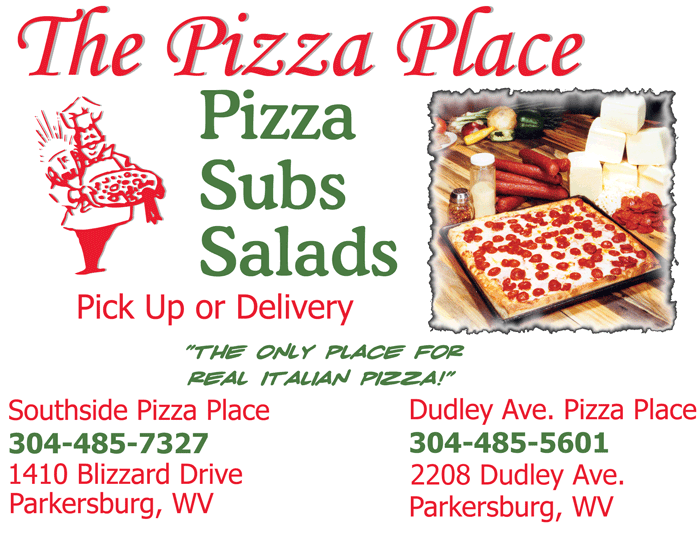 Welcome to ThePizzaPlace.org, West Virginia's only Real Italian Pizza Place!
Everyday the Pizza Place brings you the best "New York Style" pizza, ever to hit the tri-state area. We use only the freshest ingredients including, perfectly blended sauces, freshly shredded 100% mozzarella cheese and 100% real pepperoni. "Our dough is made every night, so you can be sure that your pizza is made from the finest and freshest ingredients, right down to the dough itself," claims owners Frank Scotto Rinaldi, Guiseppe Scotto Rinaldi and Michele Scotto Diluzio. Check out the new menus; Dudley & Southside. Each store is slightly different. The menu items include: Sicilian and Neapolitan Pizzas, Calzones, Strombolies, Pepperoni Rolls, Garlic Breadsticks, Chocolate Chip Cookies, Mister Bee Chips, Garden Salad, and our famous subs which include Philly Steak & Cheese, Pesto Chicken, Hot Italian, Ham & Cheese, Veggie, Pizza sub, and more.

The Pizza Place has locations in both North and South Parkersburg. In North Parkersburg, the Pizza Place is located at 2208 Dudley Ave. directly across from PHS. The South Parkersburg location can be found at 1410 Blizzard Dr. directly across from PSHS.
Dudley Avenue Menu ..|.. Southside Menu

Site Design: Absolute Art & Design, Inc.